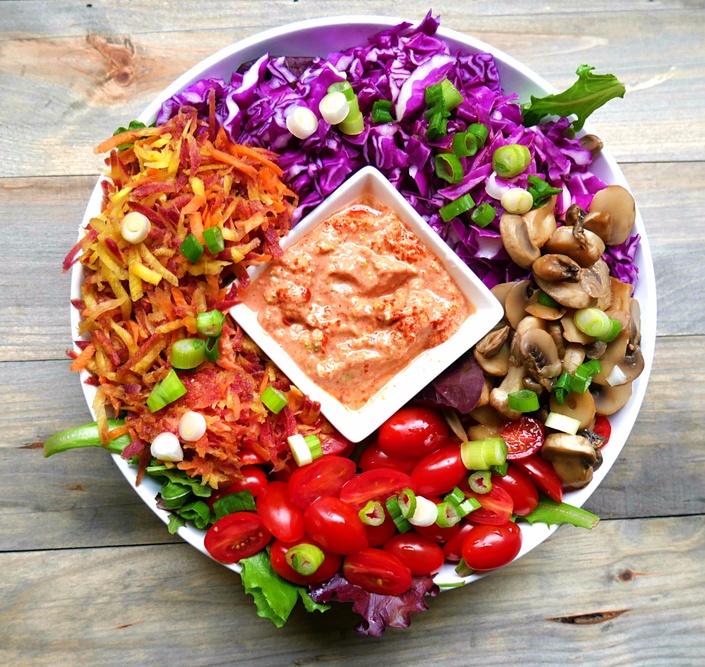 The Effortlessly Flavorful Vegan Kitchen
The Step-by-Step System for Creating Simple, Satisfying and Flavorful Vegan Meals
Enroll in Course
What is The Effortlessly Flavorful Vegan Kitchen?
✔ Learn from my 6+ years of experience eating and teaching a simple and satisfying whole food, high-raw plant-based diet condensed into a simple-to-follow online course
✔ Implement my unique step-by-step method for creating easy & quick, flavorful and nutrient-dense vegan meals
✔ Follow a supportive online course, right from the comfort of your own home, and get all your questions answered by me
✔ Improve your health and digestion, while preventing many of the most common diseases, by finally sticking to a whole food, high-raw plant based diet with pleasure and ease

✔ Never struggle for hours in the kitchen making complicated, bland meals again: prepare to turn every mealtime into a celebration of flavor!
Hi my dear! I am Marina from Soul in the Raw, and I have a question for you…
Have you ever wanted to consistently eat a healthy, home-made, plant based diet that would make you and your family feel AMAZING without spending hours in the kitchen?
I know that if you clicked through to this page, imagining this makes you really excited.
But I also know that this is probably not the first time you have looked for a way to enjoy your vegan diet, and sustain it for the long term.
I promise you that by the end of reading this page, you're going to discover exactly how to switch to eating real, whole food plant-based meals, without ever feeling deprived or confused!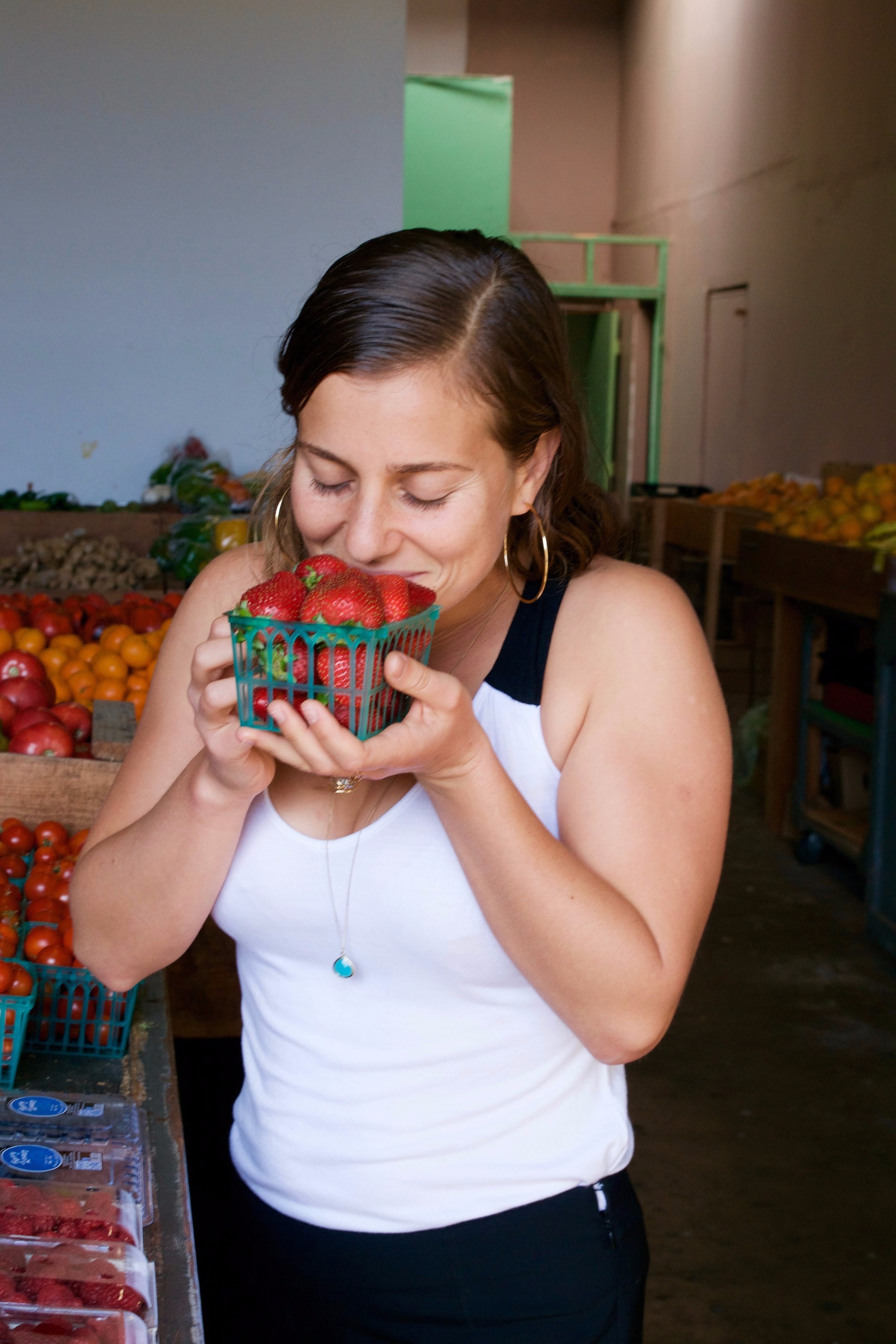 6 years ago, I started the path to a vegan diet:
✔ My mom healed her horrific and painful bladder disease of 8 years through a vegan diet, and I wanted to see what it could do for my emotional and physical health
✔ It took me a long time until I found an actually healthy and satisfying version of a plant based diet: for years eating plant-based, I still felt crappy, had lower energy, insanely painful PMS, and horrible digestion. I also continued to crave animal products, and would occasionally eat an entire block of cheese in one sitting!
✔ Sticking to a vegan diet felt impossible: I wasn't satisfied with my vegan meals, and found them to be way too complicated for a busy student, with ingredients I couldn't easily find

✔ I was really overwhelmed for the first few years. I often felt disappointed because I couldn't live up to my own standards and values (while still eating processed food and animal products)
"I Wanted To Consume a Whole Food, Plant-Based Diet, But Healthy Food

Always Tasted Too Bland To Me, and Way Too Complicated to Prep..."
I tried everything...
→ First, I started cooking according to vegan recipes.
While I found many beautiful-looking recipes, many of them were super complicated, required ingredients I couldn't find, and didn't turn out as tasty as I expected…
→ Then, I read about the health benefits of cold-pressed, extra-virgin oil, and decided to use it to make my food taste good.
While I did start liking the flavor of my food a bit more, the oil made me feel super bloated, and even made me gain weight.
→ I also tried brute force: "Marina, you do not need cheese. Walk away now. It's bad for you. It's not vegan. You don't want cheese, Marina".
That one, was the worst of them all. It ended in me eating a huge block of cheese in one sitting!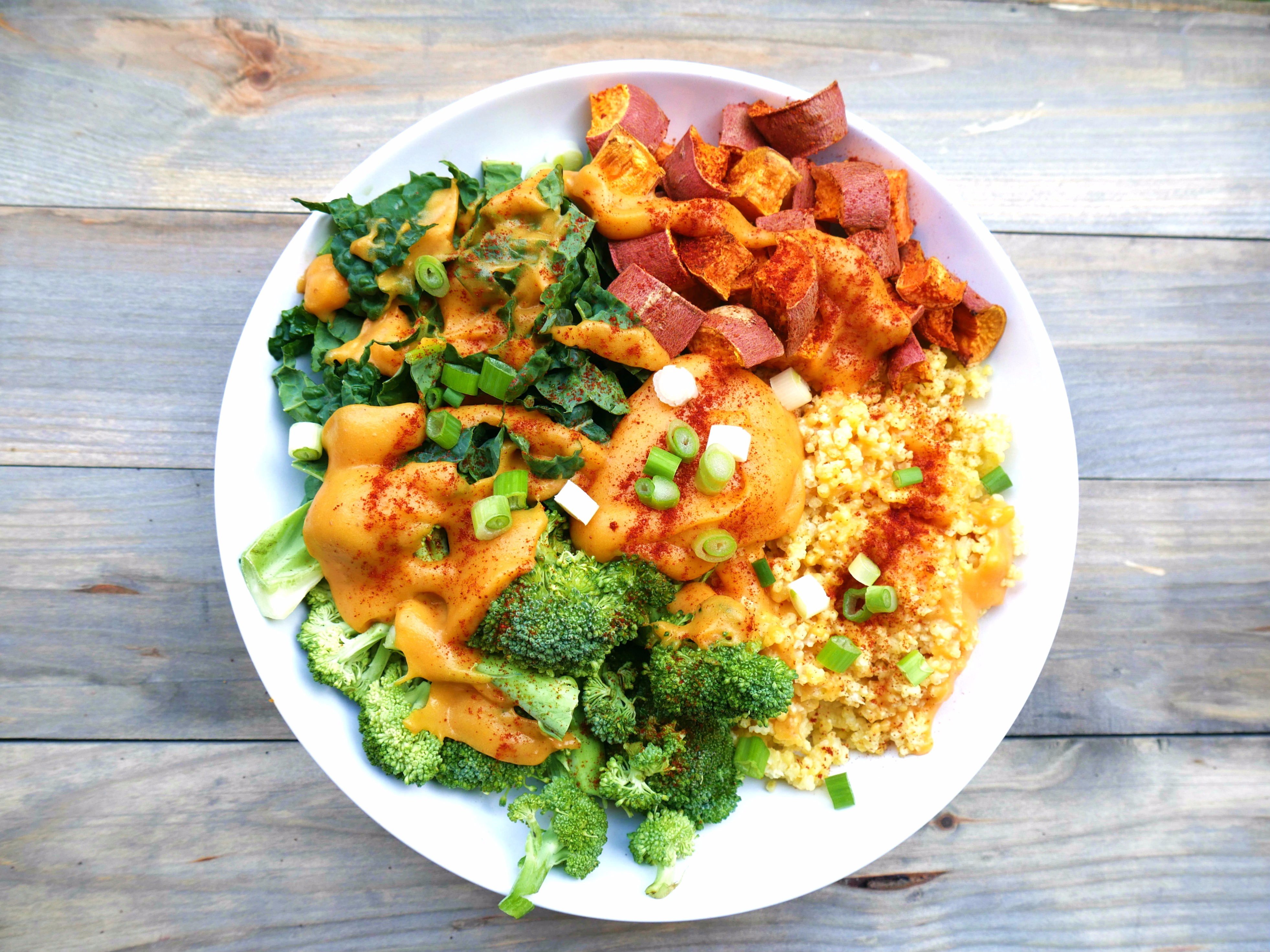 The Secret to Making Easy Vegan Meals that Taste Amazing:
Everything changed after many long hours of research, and trial and error in the kitchen. I finally discovered how I could make simple, satisfying, and insanely delicious meals:
✔ I gained the tools, skills and knowledge to make easy, satisfying meals that were incredibly healthy and incredibly delicious
✔ I learned that oil is unhealthy, animal protein is not necessary+even harmful, and that making healthy food taste good is actually a science, not an art!
✔ To make healthy food taste good, you must follow a step-by-step flavor formula, rather than try hundreds of different recipes
✔ This step-by-step formula not only helped me make great-tasting meals, but also helped me make food extremely fast – no running to the store for exact ingredients, looking up recipes, or measuring every little thing.
This system made me (ME – who hated cooking so much!) a chef, whipping up easy and delicious meals in minutes!
After I finally invented this unique step-by-step system for perfectly flavorful and quick healthy meals,
not only did I feed myself and my family the most delicious food,
I also helped over 10,000 people transition to a whole food, high-raw plant-based diet!
Here is what my students have to say about The Effortlessly Flavorful Vegan Kitchen: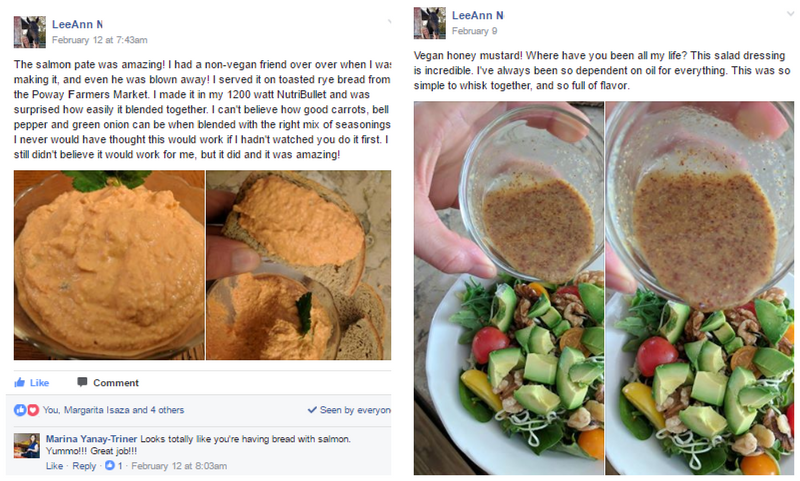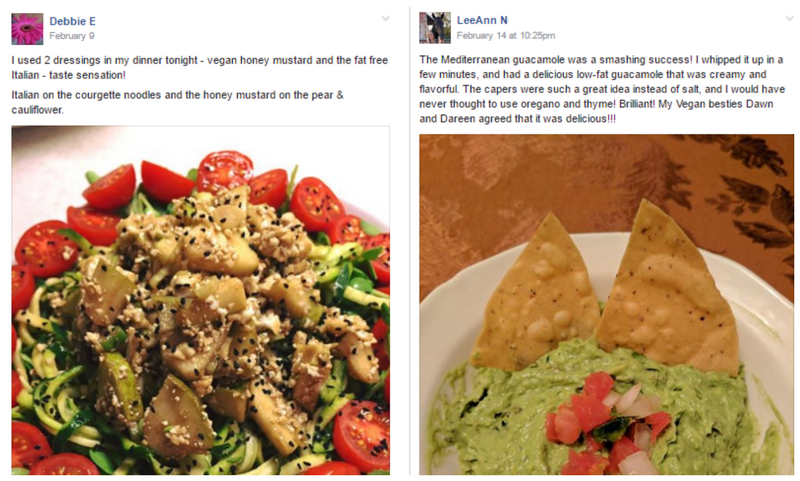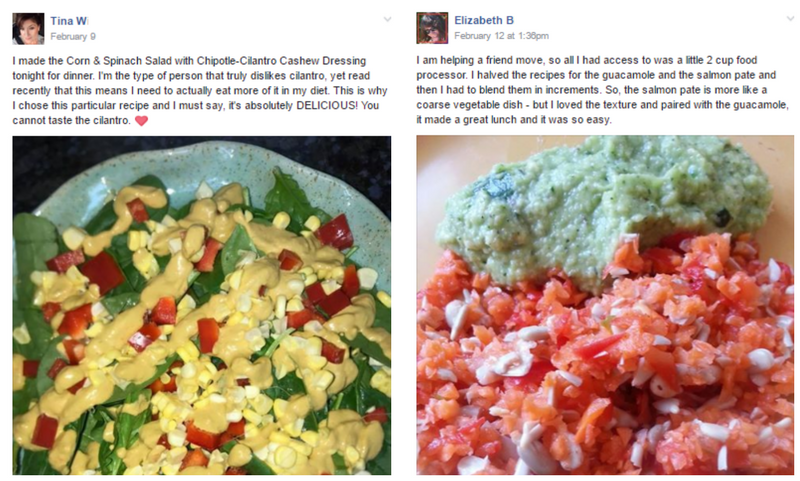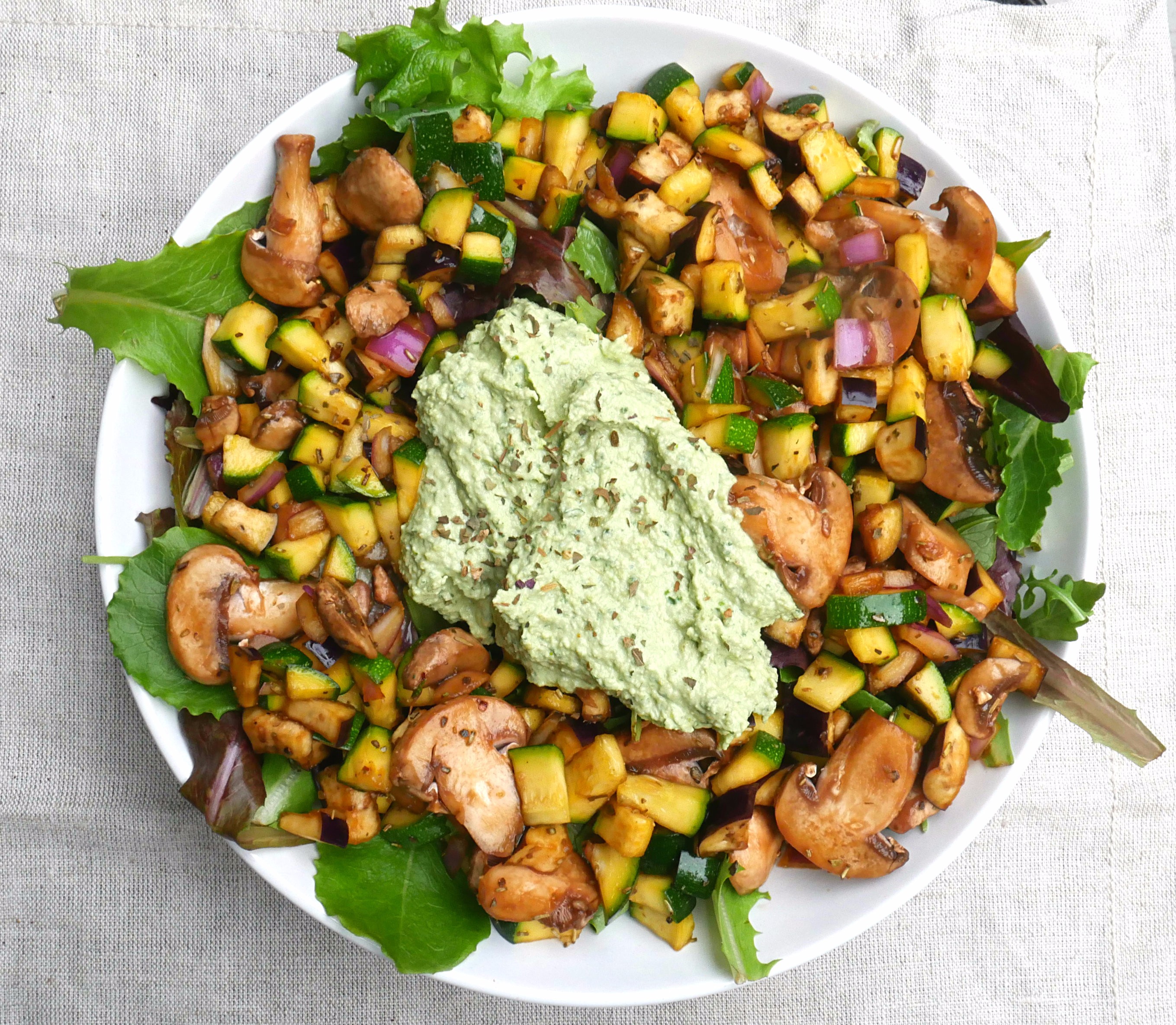 This Course Will Save you Time in the Kitchen!
It took me months to create this online course. Many beta testers went through the program, loved it, and also gave me tips for improving it even more!
>>>I spent at least 200 hours to condense all of the knowledge I had gained in the last 6 years into this concise e-course.
But you know what? It was well worth it. Because it will also save you at least 200 hours in the kitchen!
Meet Caroline W.
Caroline was able to complete this course in her very small dorm room, and found it very easy and accessible to do, as well as delicious! She also found that it really helped her continue to alleviate some painful symptoms of illness that she was dealing with.
This course:
✓ Teaches you super easy vegan recipes, so you can whip up dinner in minutes
✓ Gives you motivation to keep up that healthy habit through a supportive community
✓ Teaches you my step-by-step system for creating flavorful vegan meals, and even shows you how to adjust food to your taste buds, so you can make meals that satisfy you.
And most importantly…
✓ This course gives you all the tools you need to feed yourself and your family truly healthy, whole food meals that will prevent some of today's major killers, and make you feel vibrant from the inside out!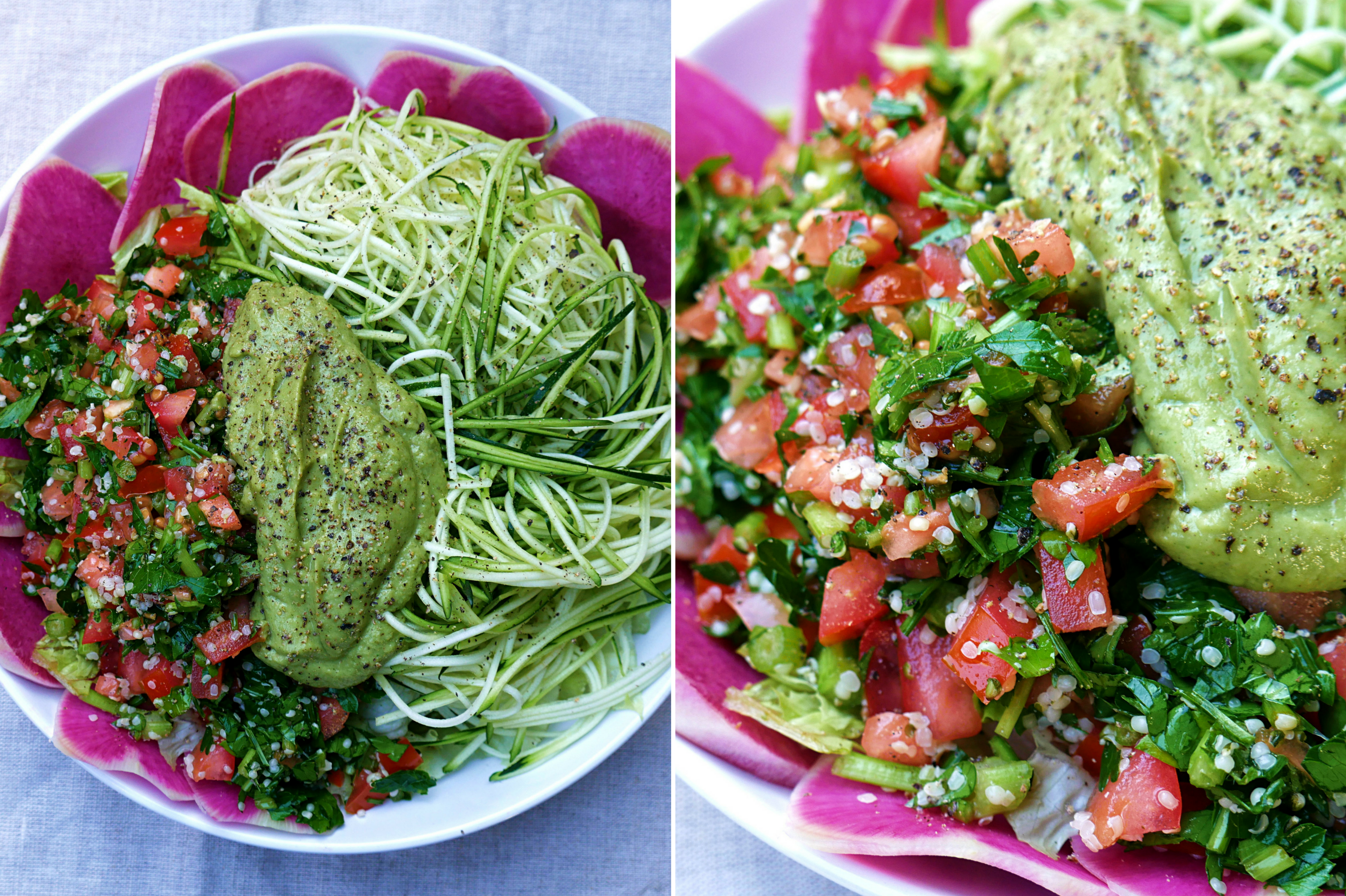 But don't just take my word for it. Here's what my students are saying about the course:
Meet Tina W.
She calls The Effortlessly Flavorful Vegan Kitchen the "best thing I have done in ages".

While Tina has been vegan for about 3 years now, she really wanted to increase her intake of raw foods. Before taking this course, she thought vegetable and salad meals would be very boring. Her experiments in the kitchen almost always ended in bad-tasting and unsatisfying meals.
Her favorite part was learning the quick and easy "secret formula" to create her own dips, sauces, and dressings. She now has the ability to create what she wants, when she wants, without having to follow a recipe. She uses ingredients that she has in her fridge and pantry, buys what is in season or on sale, and even knows how to adjust her meals' flavor to her own liking. Tina never has to worry about a boring entrée again! She learned how to turn one sauce into several different meals for the week, and even improved her digestion and energy levels in the process.
Meet Beth B.
Beth was finally able to become totally vegan through The Effortlessly Flavorful Vegan Kitchen. Without sticking to a particular recipe and measuring, and by throwing just a few ingredients into the blender, she learned to create delicious food that worked great for her digestion. She now feels confident in the kitchen, satisfied with her meals, and knowledgeable about how to add just a small amount of fat to get enough calories and maximum flavor from every meal.
Would you like to get access to The Effortlessly Flavorful Vegan Kitchen?
For less than the cost of your weekly groceries for the fam, you can get access to everything inside of The Effortlessly Flavorful Vegan Kitchen.
While it would be impossible for me to show you ALL of the benefits of The Effortlessly Flavorful Vegan Kitchen, I want to show you some of the things that you'll experience as soon as you enroll:
Course Curriculum
Module 1: Introduction to the Course
Available in days
days after you enroll
All Course PDF's
Available in days
days after you enroll
Module 2: Your Flavorful Vegan Pantry
Available in days
days after you enroll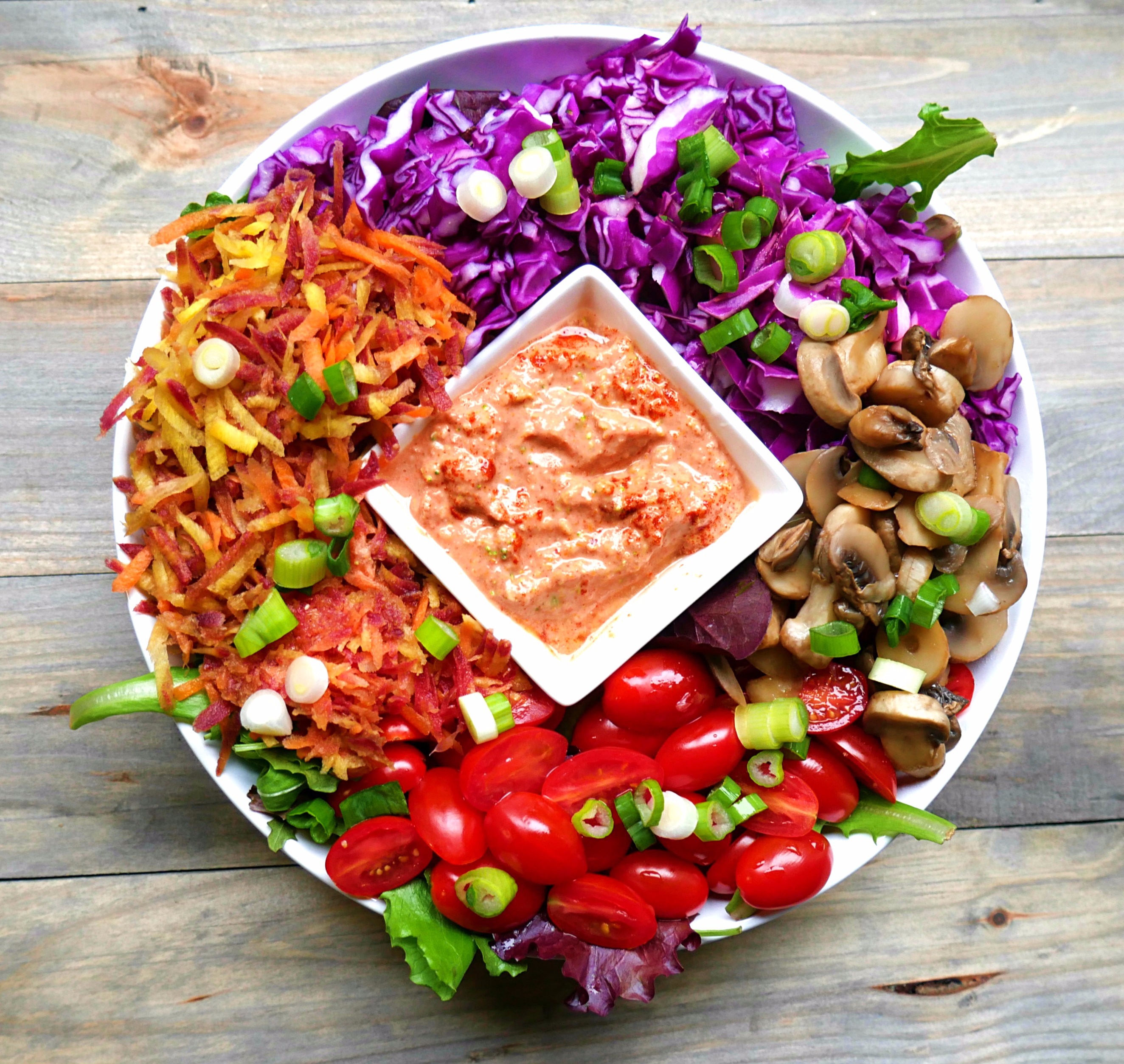 What will you learn in each module?
Module 1: Introduction
A review of what the course includes and what we will go through in this course

Learn the in-depth reasons why you should eat an unprocessed, whole food plant based diet that is oil free to improve your health and digestion

Mindset: get motivated and centered on your goals of cooking unprocessed, oil-free vegan meals in your kitchen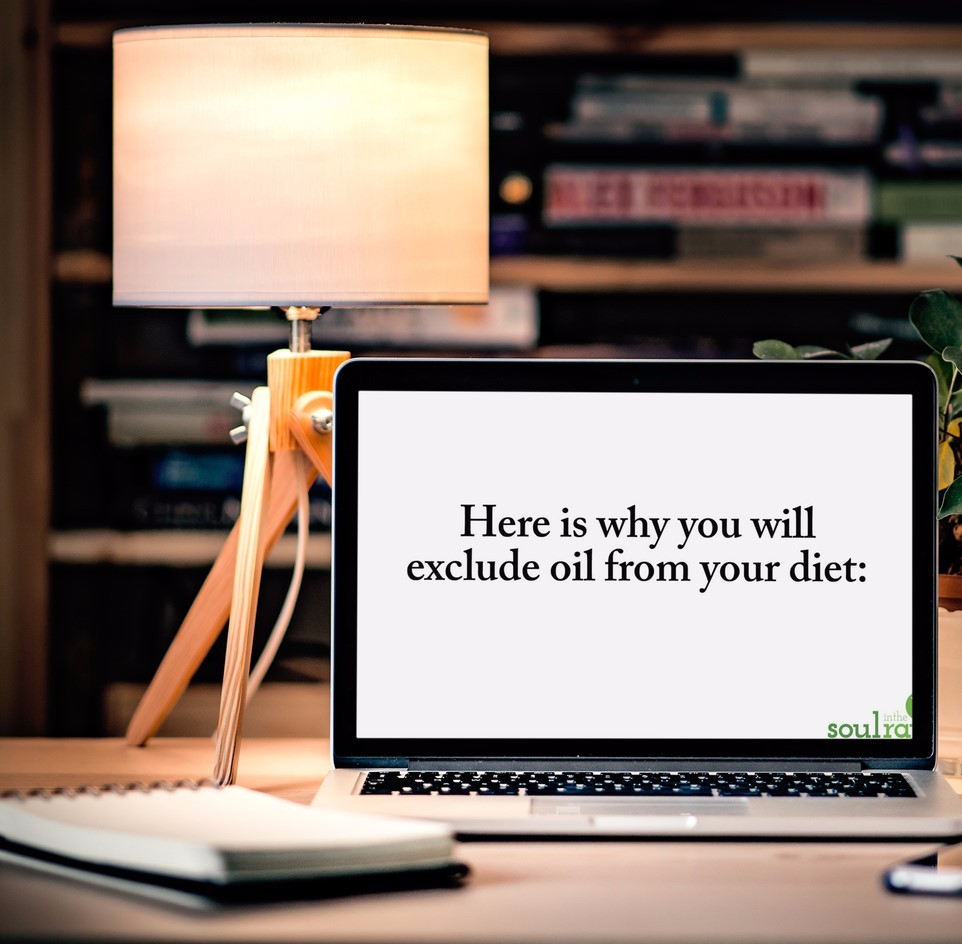 Module 2: Your Flavorful Vegan Pantry
Get started on your grocery shopping easily with a printable grocery list to fill your pantry with every single item you need to make flavorful meals

Learn how to organize your pantry for the ultimate flavorful vegan kitchen

Learn my tips and tricks on storing food for ultimate flavor and digestion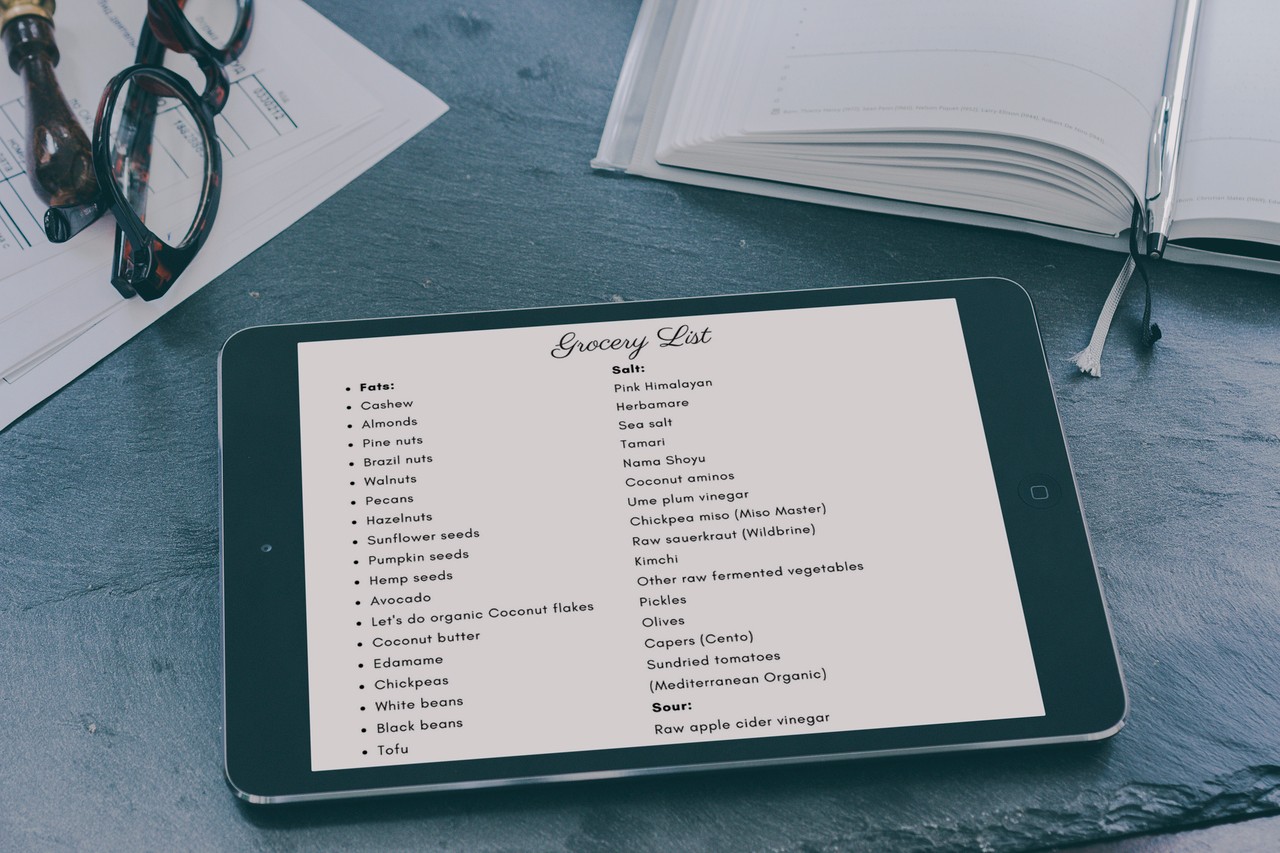 Module 3: Your Flavorful Vegan Kitchen
Learn how to use the equipment you currently have on hand to make flavorful vegan meals

Learn how to make whisked dressings to add flavor to your meals without a blender or food processor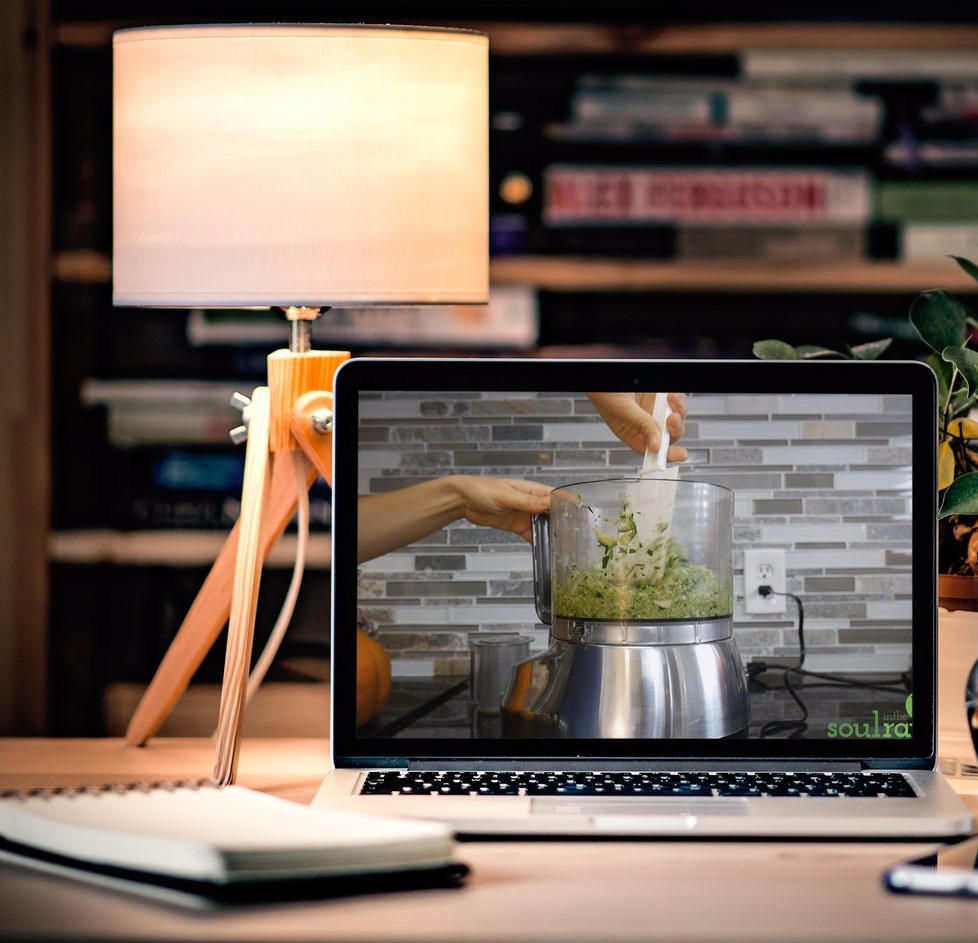 Module 4: The Step-By-Step Method for Creating Flavorful Oil-Free Salad Dressings, Dips, and Sauces
This is where the real magic and uniqueness of this course shines through. You will learn:
How to make oil-free salad dressings, dips, and sauces in under 5 minutes to create flavorful vegan meals

Cut down your prep time in the kitchen

Stop measuring, buying exact ingredients, be able to pick up whatever looks good and always know how to make a meal out of it

You'll print out a step-by-step method worksheet to put on your fridge and fill out every day (with different ingredients) for perfectly satisfying, delicious and very easy, quick meals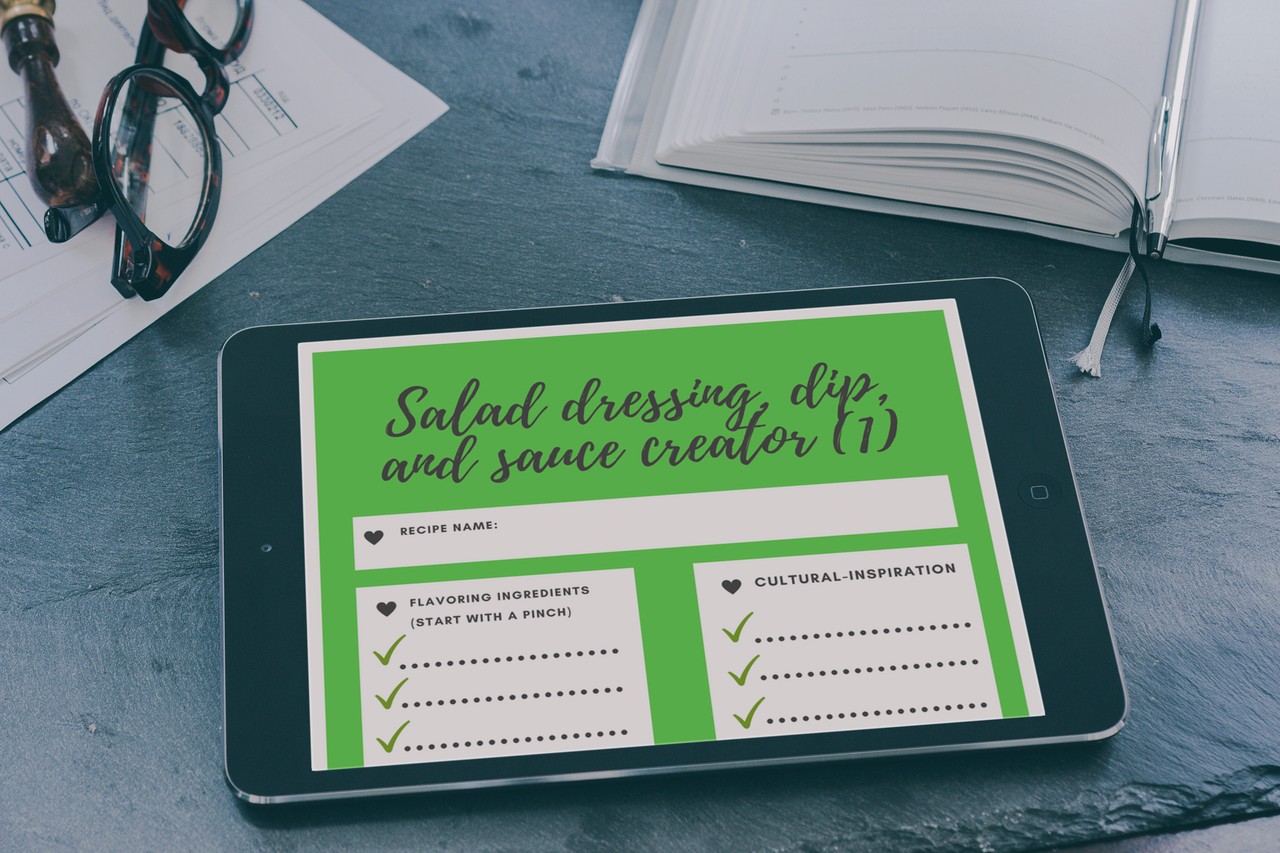 Module 5: How to Make Food Taste Good to YOU
How to taste test any recipe using a few easy steps, and create recipes that taste great to you

How to store and increase the shelf life of your dressings, dips, and sauces throughout the week for easily-available and quick meals (without preservatives, of course!)
Module 6: Salad Dressings, Dips, and Sauces: Recipes
You'll learn how to prepare:
12 easy video recipes for oil free salad dressings, dips, and sauces (see module listings above for the exact recipes)

Download a PDF with 52 salad dressings, dips, and sauces recipes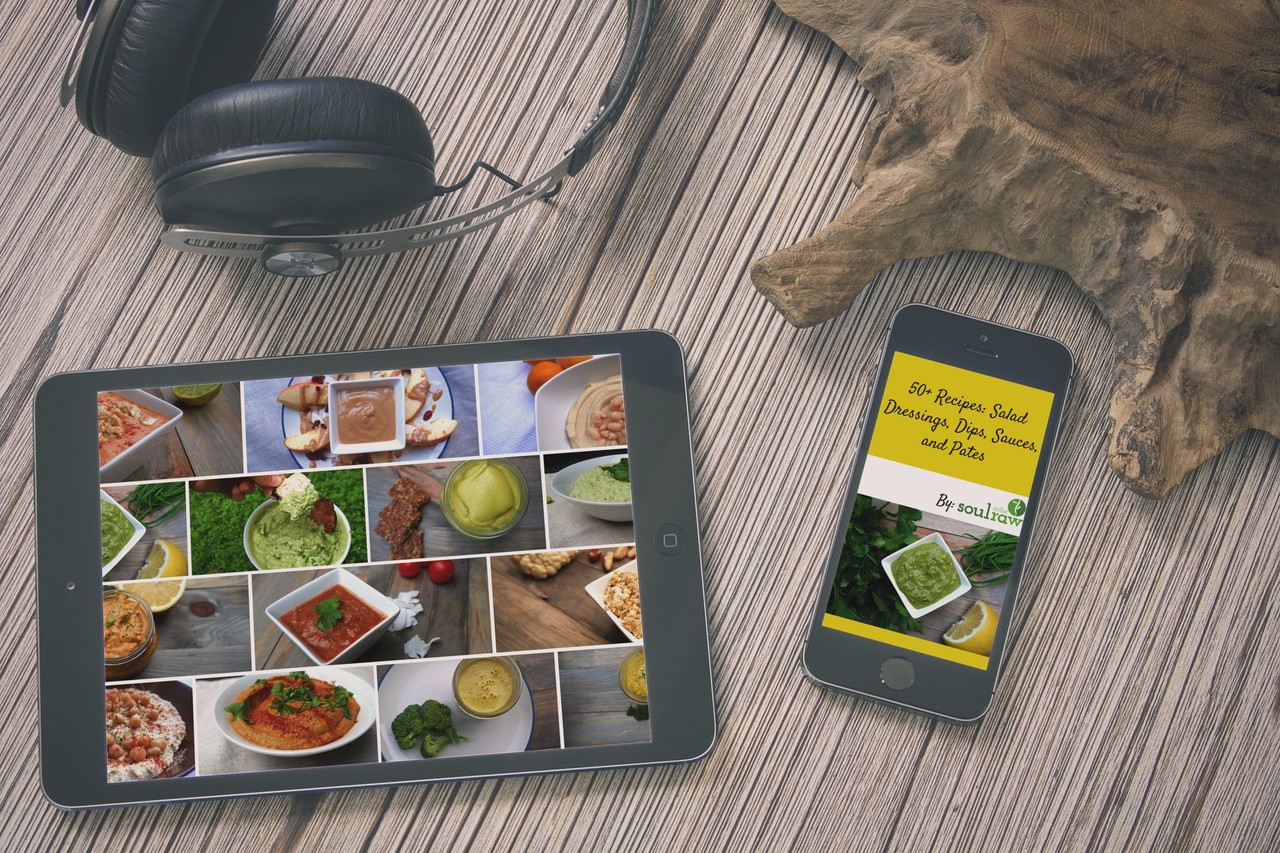 Module 7: Quick + Easy Vegan, Oil-Free Meal Ideas
You'll master 6 easy meal ideas/templates that you can use every single week for the ultimate satisfying vegan meals:
How to make filling, nutrient-dense and oil-free salads




How to make vegetable noodles and pasta




How to create wraps using different variations of wrappers+fillings




How to roast without oil




How to prepare creative and tasty bowls




How to roll easy sushi like a pro, with many different types of fillings

Download a PDF with 3 weeks' worth of main meals - that's 21 recipes (featuring these recipe categories + all of the dressings, dips, and sauces you learned in the previous module; you will use the same dressings, dips, and sauces more than once for several meals in different ways to save MAJOR time in the kitchen)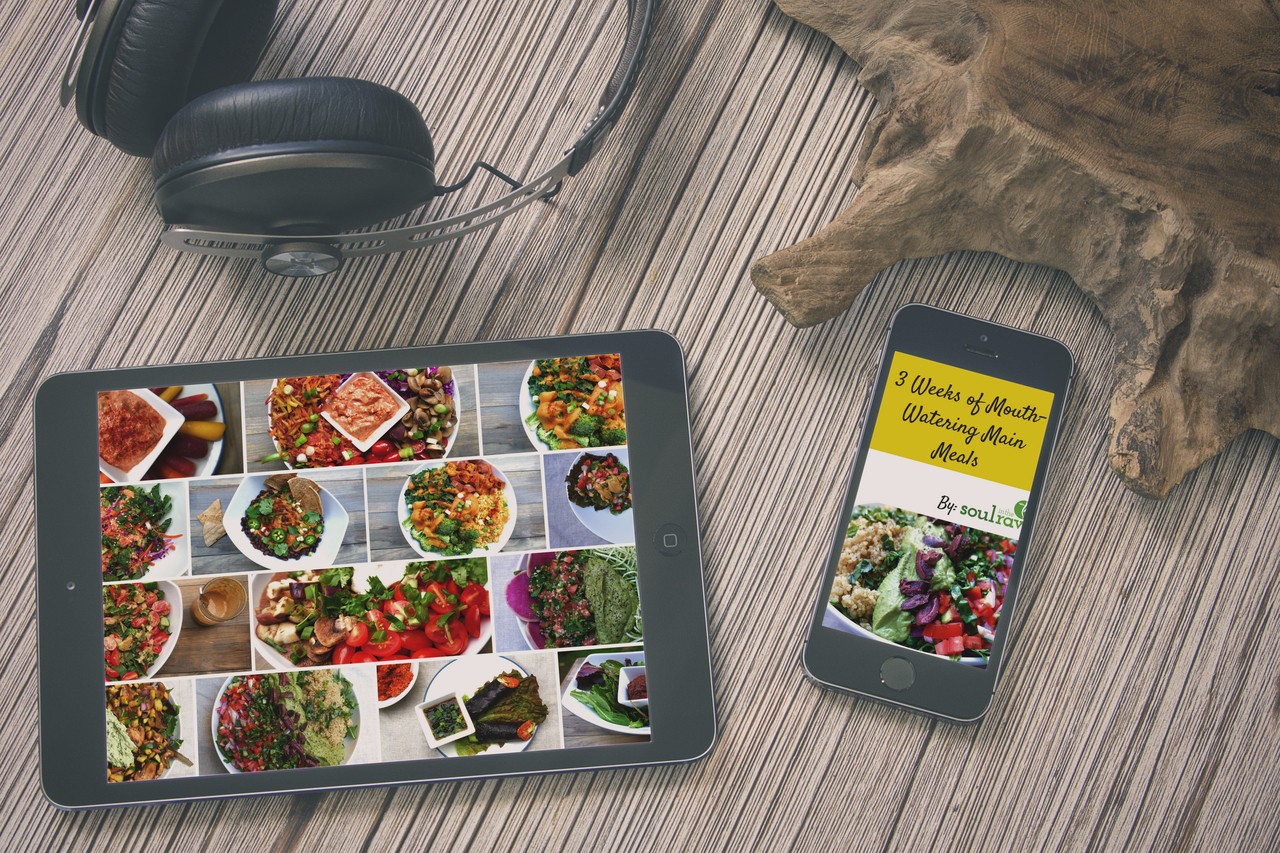 Plus, There are Bonuses!
Bonus Modules
I've also included 2 more modules with even more strategies to boost your health through simple & satisfying meals:
Bonus 1: How to Improve Digestion
In this module, you will learn practical research-backed tips for improving digestion, that include specific foods to eat and lifestyle strategies to include daily

You'll learn a few things that might surprise you! Improving your digestion is not just about what you eat, but also about how you live your life - the ingredients in your household products and skincare, the amount of times per week you shower, and more!

Download a 1-week complete better digestion meal plan that incorporates all of the best foods to encourage more good gut bacteria and decrease inflammation, and even reminds you to breathe, meditate and move; the meals are easy, quick and yummy, of course!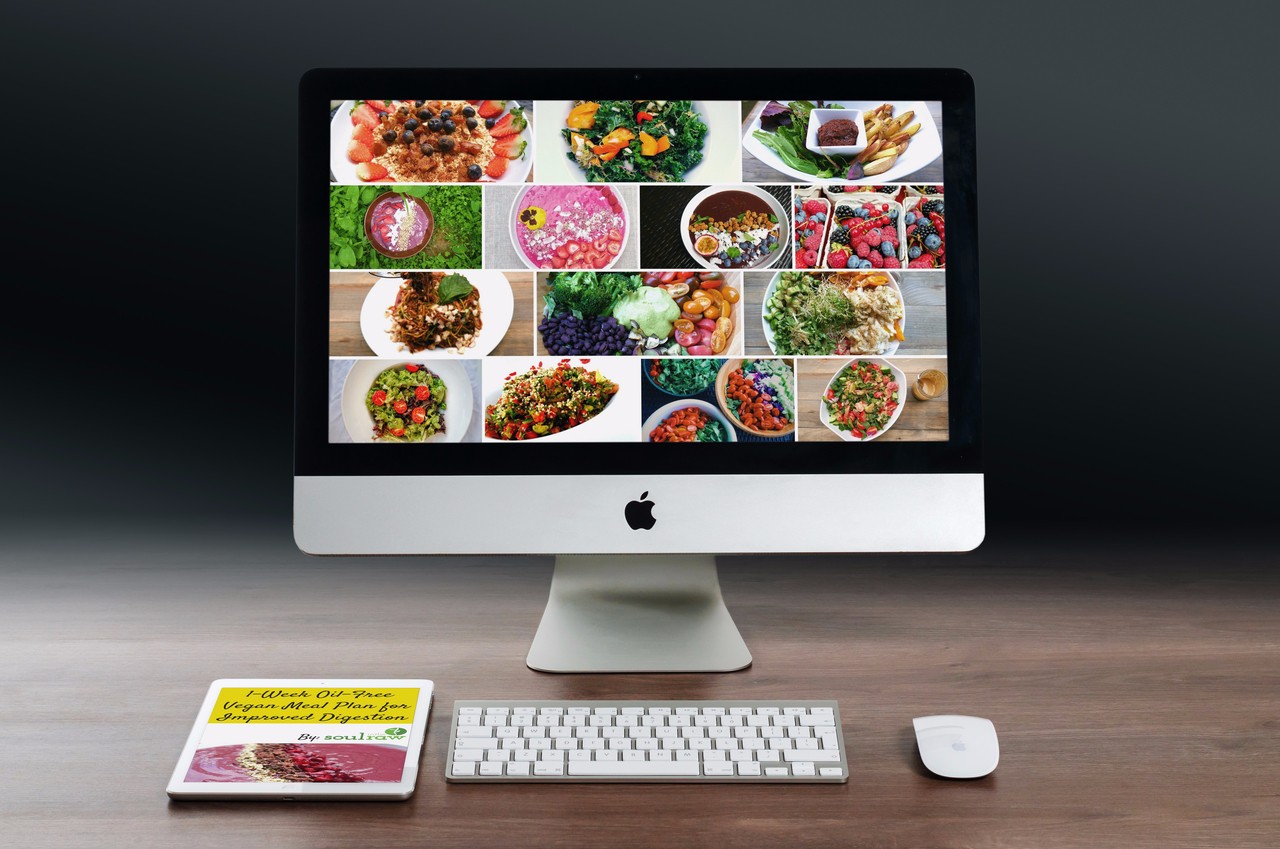 Bonus 2: Soaking and Sprouting Nuts Seeds, Beans, and Legumes
You'll learn 3 different ways to soak + sprout that you can use (depending on the equipment you already have at home) to improve your digestion greatly, and increase the nutrients you absorb from nuts, seeds, beans, and legumes, and to shorten their cooking time. Many people don't know that if you don't soak and sprout these foods, your digestion and nutrient absorption will greatly suffer, so it's important to learn an easy method to do this and start practicing it at home.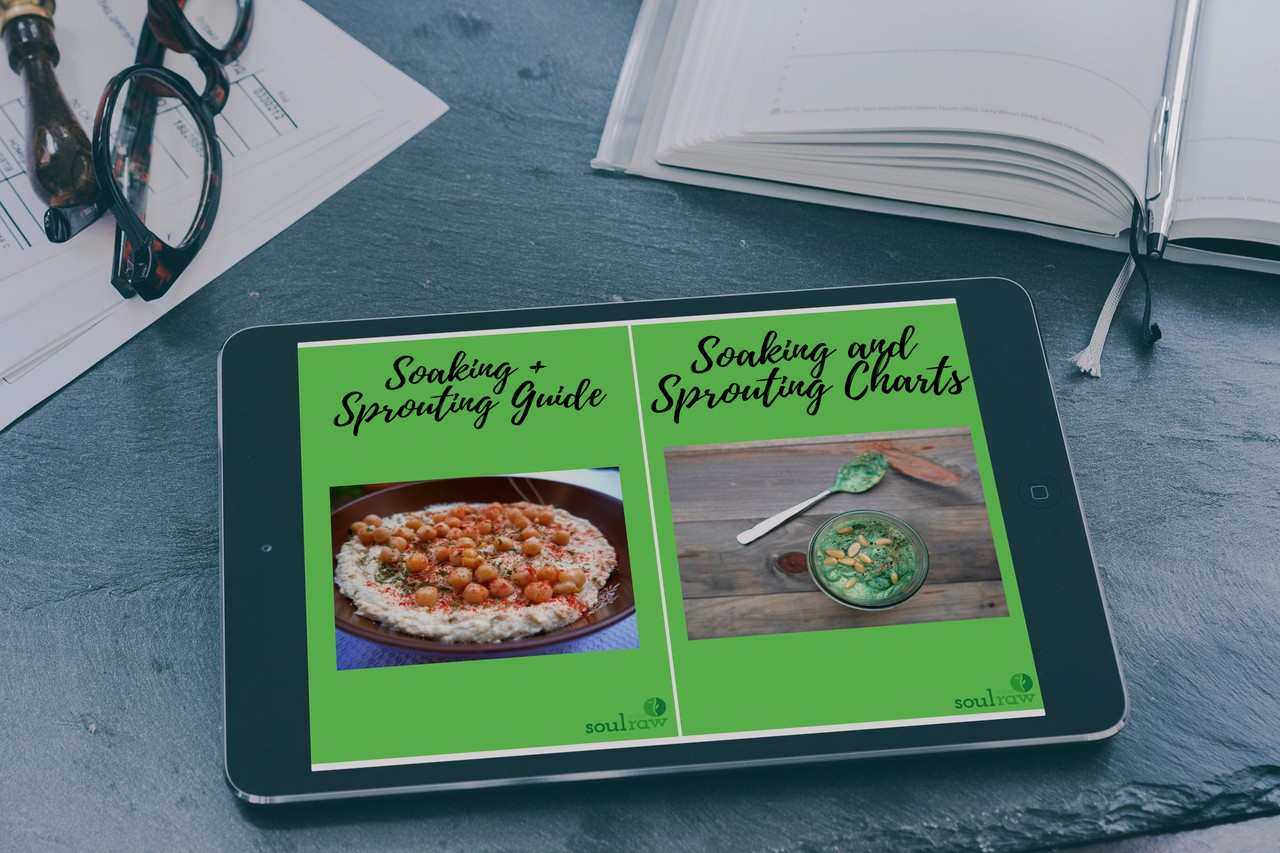 The Effortlessly Flavorful Vegan Kitchen Community
This exclusive Facebook Community, which only students have access to, will allow you to:
Learn from the creative genius of other vegan cooks

Share your meals, and ask Marina and the other members any questions you may have on an ongoing basis

Get weekly support from me: I will be there weekly to answer your course + nutrition questions, supporting you as you learn how to make simple, quick and flavorful vegan recipes

I will even conduct live Q+A's and teach extra material in this group based on group needs and questions that arise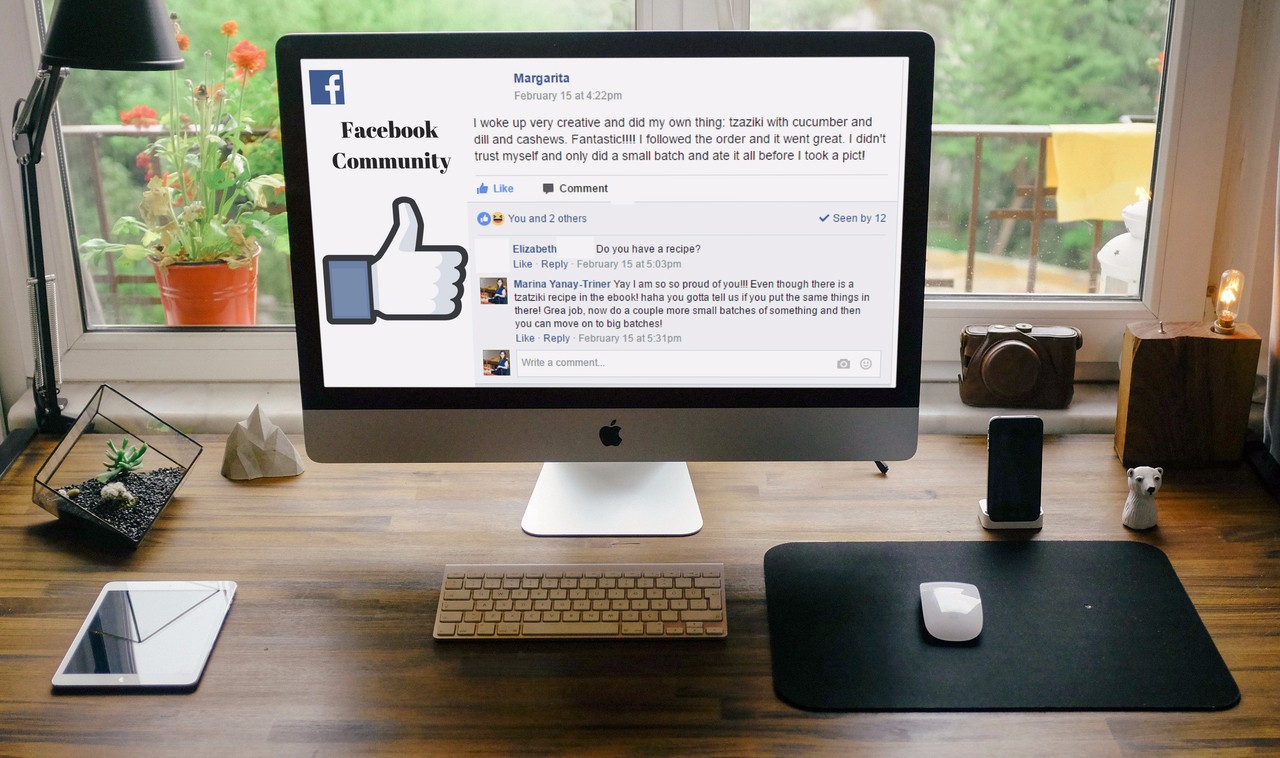 I charge $100 for an hour of coaching with me.
Teaching you all of the information in this course would take me a minimum of 10 hours, making this course total cost over $1,000!
If all this course did was give you the ability to create quick, delicious, satisfying and healthy plant-based meals for your family, giving you back your energy, clear mind, glowing skin, and your ideal weight, while preventing disease, would it be worth it?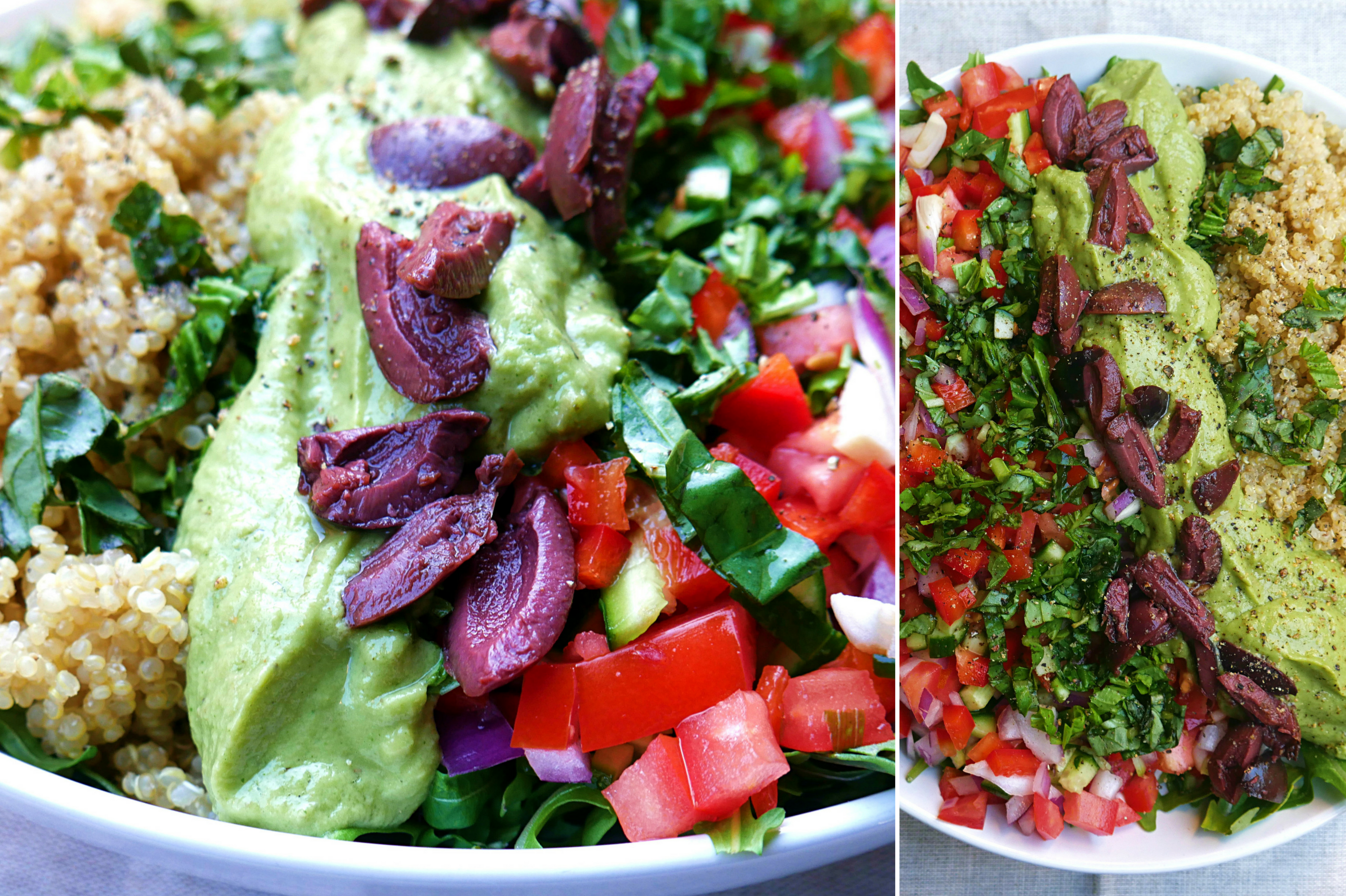 Well, guess what? The price of The Effortlessly Flavorful Vegan Kitchen is not $1,000.
It's $197!
As this is a digital product, all sales are final.
Just imagine how you'll feel when you consistently eat a whole food plant based diet that you enjoy.
Finally, you will be able to live in alignment with your own goals – and I know how proud of yourself it will make you feel!!!
Remember, here is what you get when you enroll in The Effortlessly Flavorful Vegan Kitchen:
✓ Super easy recipes, so you can whip up dinner in minutes
✓ Motivation to keep up that healthy habit through a supportive community
✓ My signature step-by-step system for creating flavorful vegan meals, and a system by which to adjust flavor to your taste buds
And most importantly…
✓ This course gives you all the tools you need to feed yourself and your family truly healthy, whole food meals that will prevent some of today's major killers, and make you feel vibrant from the inside out!
A Time-Saving Online Course
"I'm just starting your cooking course. Thank you so much for putting that together. I don't have much time, and it is so nice to make healthy meals that are actually easy and delicious.

Thanks for being you!
I think my favorite part of the course has been learning about all of the fun ways to create sauces. I love your sauce guide! I'm a vegetable lover naturally, so going vegan isn't too much of a stretch (except that I love cheese). But I'm so used to baking/cooking that it's been fun to see how I can leave food raw if I prepare it slightly differently, or marinade them".
- Loriel D., current student in The Effortlessly Flavorful Vegan Kitchen
---
Okay, Marina, I am ready to join in!
Click on the button below right now, and you'll be taken to a secure order form.
After you put in your credit card info, you'll be taken to a secure member's area where you can download everything inside The Effortlessly Flavorful Vegan Kitchen (and watch and re-watch it as much as you want), even if it's 2 AM!
Your Instructor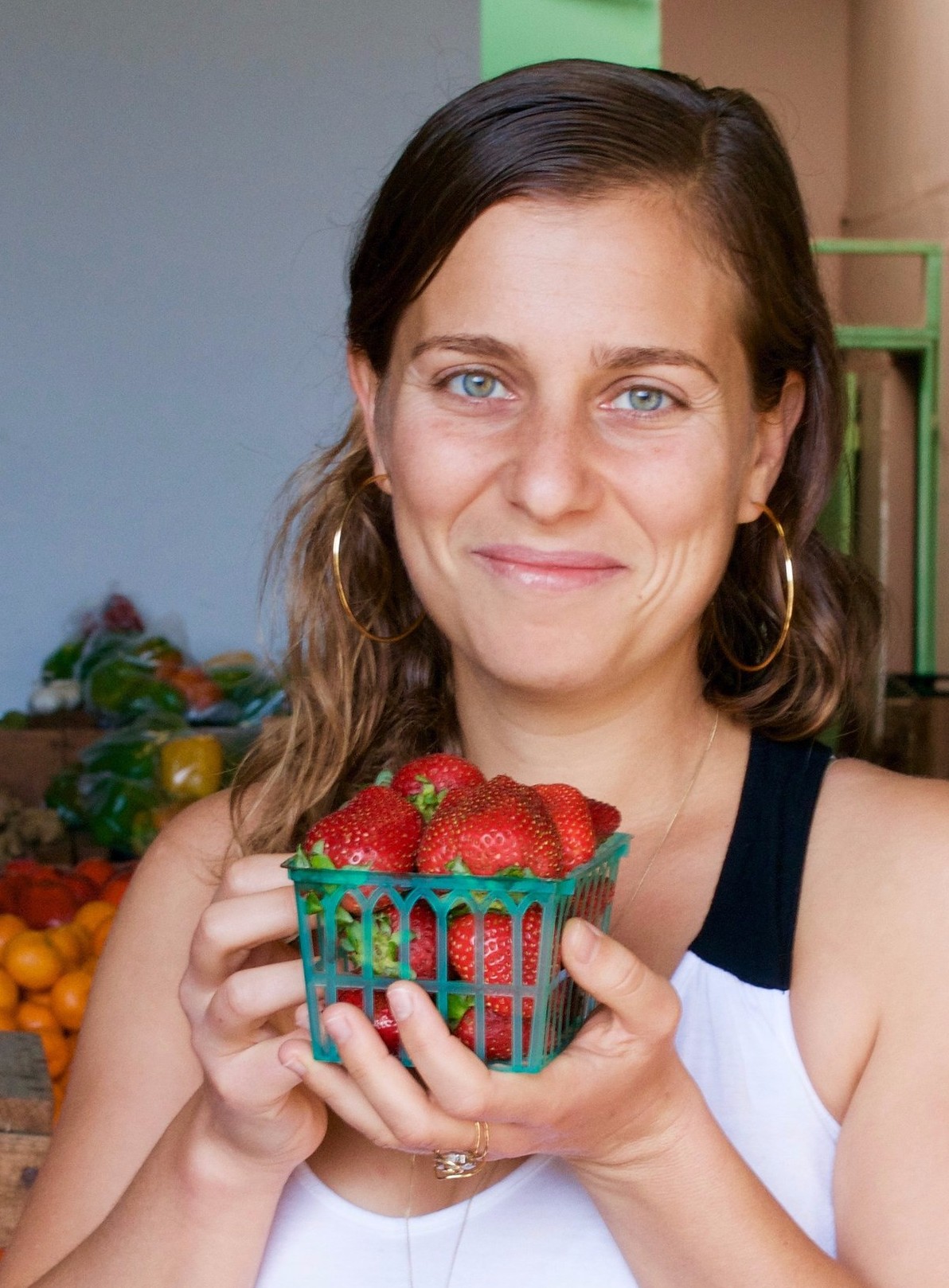 Hi there! My name is Marina Yanay-Triner, and I am a high-raw vegan blogger, recipe creator and health coach at Soul in the Raw. I went vegan over 7 years ago as a result of my mother's healing story from a cruel and painful bladder disease, and was able to heal my own extreme PMS symptoms, broken digestion, and grow a new connection with my own body. I create quick, easy and extremely flavorful recipes and coach others to transition to a scientifically-supported whole food, plant-based high-raw vegan lifestyle for health, the planet, and the animals. Healing starts with your food choices!
Frequently Asked Questions
Now isn't a great time. Can I enroll anytime I want?
This course comes with a LIFETIME ACCESS, so even if you have to take a break, it will be there for you whenever you are ready.
How is this course unique?
This course is not only going to give you recipes. It's going to give you an extremely easy step by step method for creating your own recipes in minutes. By using this method, you will be able to purchase produce that is on sale or looks good to you and create meals out of it in minutes! No more following exact recipes. No more shopping for exact ingredients. No more washing measuring spoons and cups. It is about becoming free in your kitchen, and being able to maintain an unprocessed, oil-free vegan diet for life. You also receive plenty of recipes that you can use to get started with, and alter to your liking.
What the heck is this "secret method" you speak of?
The method is a chart that has categories. Each category has many options to choose from. When you use the method, you will pick 1-2 items from each category, throw them together, and create your own recipe. It is meant to help you understand what makes meals taste good, and gives them the mouth feel and the satisfaction we are all looking for. It is also very easy and simple to follow.
Is this course only for vegans?
Not at all. If you aren't vegan, you can still incorporate these recipes into your current diet for a boost of healthy plants.
What kind of equipment will I need to do this course?
Having a food processor and blender for this course would be great! (Besides a knife and a cutting board, of course). However, if you don't have those, don't worry. I show you how to create recipes by whisking ingredients together, and I also provide some very budget-friendly options for a blender and food processor, too!
Are you using some crazy, weird, hard-to-get ingredients? Where can I buy them?
Nope. Most of these will be familiar to you, and available at the grocery store. I also provide substitution options - the whole goal, after all, is to be able to learn to use whatever you've got on hand. I will also add a link to my favorite online store. It ships internationally, and you can buy all of your pantry items on there. You will receive a detailed grocery list that includes item names + brands as well, so there is no room for confusion.
What if I HATE being in the kitchen?
If you hate the kitchen, for whatever reason - this course was made for you! It will have you in and out of the kitchen in no time, and will seriously shorten the time it takes you to create your healthy meals. If you love experimenting in the kitchen, you will also find this course very fun and enjoy trying out different meals.
How quickly can I learn to make my own simple, satisfying vegan meals?
I cannot promise you this specific result in your kitchen in a specific amount of time. No one can promise you this. This is because we all begin at different levels. What I can tell you is that this method is very easy to learn, clear, and totally doable! If you practice it diligently and follow the exact steps, you will be able to ditch recipes forever - just like many of my students already have!
When does the course start and finish?
The course starts now and never ends! It is a completely self-paced online course - you decide when you start and when you finish. You are a member for life - both of the course and the Facebook Community. You will also receive any updates and bonuses I add in the future.
How does this course work?
After you register for the course, you will be able to log in with a username and password. You will then be able to view ALL modules + bonus modules and complete them at your own pace. You can do this whenever you want, and right out of the comfort of your own home. The videos are all short and easy to follow. If you want to take a break, or rewind, you can always do that too. I have also added transcripts to the videos - so you don't have to take notes unless you want to. You will receive over 90 PDF recipes, videos, and grocery lists, as well as a formula chart. You will also get access to our Facebook community right away, where I will answer all of your questions.
How much personal access to you + support do I get?
In our exclusive community, the Effortlessly Flavorful Vegan Kitchen Community, you will have full access to me. I will hang out there at least once per week, and also have Q+A's on Facebook live, as well as teach bonus material. I promise to leave no question of yours unanswered!
Is this course only for beginners in the kitchen?
Definitely not. This course is perfect for beginners - as I lay out all of the foundations in the beginning. And it is also great for anyone who has been vegan for a while and wants to learn to make more satisfying and delicious meals that are homemade.
All material on this website is provided for your information only and may not be construed as medical advice or instruction. No action or inaction should be taken based solely on the contents of this information; instead, readers should consult appropriate health professionals on any matter relating to their health and well-being.The information and opinions expressed here are believed to be accurate, based on the best judgement available to the authors, and readers who fail to consult with appropriate health authorities assume the risk of any injuries.